Multiple identities | Identidades múltiples
A fundamental point to contribute to intercultural dialogue is to consider other cultures an individuals as hybrid, heterogeneous, neither fixed nor finished, people with multiple loyalties and identities, with a great identity wealth. Identifying diversity within ourselves helps us to identify diversity in all that surrounds us and prepares us for a healthy interaction with our environment. We are ready to open ourselves to others and offer our solidarity.
This new way of thinking or change of mentality allows us to relate to others in a different way. We recognize ourselves and interact not from our differences but from our similarities, what brings us together and not what separates us.
I would like to quote two great authors in literature to illustrate this matter artistically. I would like to recall the French poet Arthur Rimbaud´s words to George Izambard on 13th May 1871:
(…)We are wrong when we say: "I think". We should say "They think me". Sorry for the play on words. I is someone else. It is too bad for the wood which finds itself a violin (…)
The phrase: "I is someone else" is very descriptive in this sense, considering ourselves other people or that other people can be us brings us together with the rest and, at the same time, recognizes the possibility of more than one identity in each individual.
Another text which deals with this diversity within us is one of the poems written by the Spanish poet Juan Ramón Jiménez:
Yo no soy yo.
Soy este
que va a mi lado sin yo verlo;
que, a veces, voy a ver,
y que, a veces, olvido.
El que calla, sereno, cuando hablo,
el que perdona, dulce, cuando odio,
el que pasea por donde no estoy,
el que quedará en pié cuando yo muera.
I came across this poem some years ago and it has become one of my bedside poems since then. In this poem, the poet makes reference to our conscious and unconscious being, our essence (which is in turn connected with the universal energy, to everything that surrounds us), and how both are part of the same person. It also talks about the different identities, beings and potentialities that can exist within the same individual.
I would like to remember this essence because it is precisely this what connects us with everything that surrounds us, without any distinction of race, origin or history. One of the keys for this intercultural dialogue is not losing sight of this concept, the fact that we´re all part of the same superior unity, one unity that envelops us, from which we come and to which we´ll depart at the end of our lives.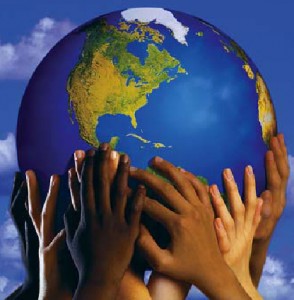 Spanish version:
Un punto fundamental para contribuir al diálogo intercultural es considerar a las culturas y a los individuos como híbridos, heterogéneos, ni fijos ni acabados, individuos y personas con múltiples lealtades e identidades, con una gran riqueza identitaria. Reconocer a la diversidad dentro nuestro ayuda a reconocer a la diversidad en lo que nos rodea, y nos prepara para una interacción saludable con nuestro entorno, donde estemos dispuestos a abrirnos y a solidarizarnos con los demás.
Esta forma de pensar nueva, este cambio de mentalidad, permite a su vez otra forma de relacionarnos con los otros. Nos reconocemos e interactuamos pero no a partir de nuestras diferencias sino a partir de nuestras similitudes, lo que nos une y no lo que nos separa.
Me gustaría citar a dos grandes de la literatura para ilustrar artísticamente este tema. Por un lado, recordar las palabras que el poeta francés Arthur Rimbaud le escribió en su carta a Georges Izambard el 13 de mayo de 1871:
(…)Nos equivocamos al decir: "Yo pienso". Deberíamos decir: "Me piensan". Perdón por el juego de palabras. YO es otro. Tanto peor para la madera que se descubre violín, ¡y mofa contra los inconscientes, que pontifican sobre lo que ignoran por completo!(…)
La frase "Yo es otro" es muy descriptiva en este sentido, considerar que nosotros somos otros, o que otros puedan ser nosotros, nos une al resto y a su vez reconoce la posibilidad de más de una identidad en cada persona.
Otro texto que habla de esta diversidad dentro nuestro es el poema del poeta español Juan Ramón Jiménez:
Yo no soy yo.
Soy este
que va a mi lado sin yo verlo;
que, a veces, voy a ver,
y que, a veces, olvido.
El que calla, sereno, cuando hablo,
el que perdona, dulce, cuando odio,
el que pasea por donde no estoy,
el que quedará en pié cuando yo muera.
Me crucé con este poema hace algunos años atrás y desde entonces se ha convertido en uno de mis poemas de cabecera. En el mismo, el poeta hace referencia a nuestro ser consciente y a nuestro ser inconsciente, nuestra esencia (que está a su vez conectada a la energía universal, a todo lo que nos rodea), y como los dos son parte de la misma persona. Pero también habla de las diferentes identidades, seres, potencialidades que pueden haber en una misma persona.
Me gustaría quedarme con esta esencia porque es justamente esta esencia la que nos conecta con todo lo que nos rodea, sin distinción de origen, raza, historia, etc. Una de las claves para este diálogo intercultural es no perder de vista este concepto, el hecho de que todos somos parte de una unidad mayor, una unidad que nos envuelve, de la que venimos y a la que iremos al final de nuestras vidas.